Here is a pdf version of the Installation instructions that come with Waterboot
For a rectangular collar and an oval mast configuration we usually design Waterboot on the large side. We intentionally leave extra material that will fit over the corners of the rectangular collar. The extra material can be easily trimmed off after the Waterboot is installed and the bottom is adequately sealed by means of tape, hose clamp etc. Be aware that there will more than likely be soft creases on the Waterboot material as it wraps around the corners. This doesn't affect performance but the look is just not as seamless as an oval mast and deck configuration.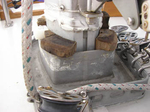 Here is a PDF version of the Special Installation Instructions for rectangular and other non-oval mast/deck configurations.
Here are the three dimensions we require to design a custom Waterboot for your boat. If you are ordering for the first time please indicate all three dimensions in your order form.
See Photo Below: Mast Circumference: This is the circumference where the top of the Waterboot will wrap around the mast.

See Photo Below: Deck Flange or Collar Circumference: This is the circumference of the deck collar where the bottom of the Waterboot will wrap around.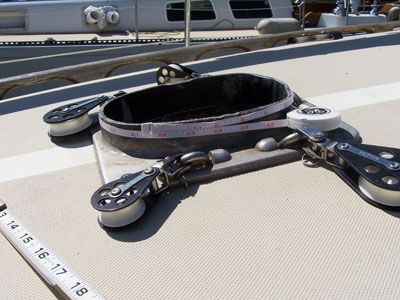 See Photo Below: Overall Vertical Height: This is the height from the deck to the top edge of the Waterboot. Keep in mind any restrictions like low mounted hardware.

Note: You may simply want to duplicate the height of your existing "boot". If there are no height restrictions, pick a height that will be both effective and attractive.